Why can I not persuade this person?
Why seems my boss always iritated when I present my part during the staff meeting ?
I seem to become uncertain when I have to speak up and defend a position during the meetings
I seem to bump up to the same annoying characters in my life…why ?
I want to get to the next step in my career but my boss says I have to learn to think differently ?
What differences in approaches in our team !! what is the best?
I'm 50 and not enjoying work anymore, but it is not clear why : colleagues are nice, my evaluations are good, my boss is ok and my salary is ok…???
I have to be an expert and a leader : difficult combination ! How to do that ?
I have to be a "strong" decisive leader with a human face…???
I need consensus in the team but it takes too much time!!
I need to combine short and long term accountabilities -these can be conflicting !!
good news, you are not the only one
even better news : we can discuss this and support you
we believe that coaching is one of the ways to develop people If you believe that
Self Awareness is the basis for any behavioral change
People want to and can develop themselves
Attitudes, behavior are purposeful
Learning comes from inner drive, feedback, support, sweat
All this will transpire in the trustful and respectful relationship coach-coachee never forgetting that the end -client is the organization
The world is a stage and men and women merely players
Support

the individual to

discover

her-his strengths and weaknesses and unknown talents patterns of behavior that are (un)productive

Measure

to create

understanding

via tests, questionnaires,360°, e.g. ALTI or MBTI, Life Styles personal in-depth interviews

Stimulate

the change of behavior pace of development is managed and long lasting effects are key constructive but challenging feedback is essential,

Adapt

to the coachee to learning style and individuation level

Stretch

teh coachee to make decisions, self aware, in serenity

Trust

is the corner stone for success
Goals are set by the organization and – or coachee to plan and urge for change
The coachee creates "personalized" learning targets
without clear goals and without clear commitment there is no coaching
Goals can be purely performance oriented : change of behavior
or can be personal development oriented : attitude change,
mastering psychological functions that are under- used
Our beliefs:
The coachee is full responsible for his-her behavior change
The coach guides and develops constructively
Self awareness :"Know Yourself" and improved performance
Vision
Mission

> business

Workshops

People
Leaders
Organisations
Measure
+ Talent detection
+ Gaps
Measure
+ Self assessment
+ 360°
Measure
+ Culture study
+ Leader's styles
Develop
+ Talent Process
+ Coaching
+ Training
Develop
+ Coach with

Voice Dialogue


+

Coaching in small groups


+

Coaching for conflicts

Develop
+ Change Management
+ Team development
+

Team Coaching
For obvious competitive reasons: In the following page we do not present all details of our expert approach, unique on the market
Objective :
make people aware of their personal strategies, strenghts and weaknesses – enabling consciuous decision making for optimal behavior
Background :
S/W are linked to behavioral patterns that are not always clear or even conscious
The question is why people choose the situation they are in
Strategies in working life can block or favour adaptation and performance
Beliefs, mental models ;psychological preferences : they play their role and influence choices
People have many elements in their personality, these can be observed in their different styles and approaches
The elements are always clustered by two and are in oppositional form
Technique :
A kind of role playings with the different styles, strategies, until it is clear to the person what is the "best choice"
You know
Who are your high potentials ?? :leaders of today and tomorrow?
There are still competencies and attitudes that are to be learned and are weak all over the organization ?
You want to invest to
Retain the talent
Develop the talent in an accelerated way ?

But

for 20 or more people coaching can be a heavy investment
For you, Hermes Consulting has created
Development Workshops : coaching technique in groups of maximum 6 people
Goal : accelerated development — and retention of your high potentials
Essentially : workshops – small-interdepartmental groups of high potentials
one day per month
Subject : weak competences-weakest organizational capabilities – No theory !
Preparation is paramount : with top management and HR
The style is challenging – coaching
Key : commitment from the top who introduces him – herself the workshop the n+1 (if not top mngt) of the participant needs also to be included in this preparation and has to give his clear commitment and the participant's commitment
Results
organizational capabilities grow
accelerated developments
participants start coaching each other
> leaders of today and tomorrow develop
> new network between the participants
> they become role model for others
>> These people feel this investment as a real recognition = retention of talent !
Objective :

Team Performance
Approach :

Analysis of the essential factors in any team : using "THINK" model – method
= questionnaire and interviews
Feedback to the team of the analysis = agenda for the sessions
Each weak point is discussed and actions are decided
7 days,7 sessions maximum, of each 3 hours
Result :

alignment, coherence, shared vision, improved climat, more and better Quality output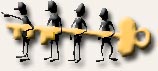 Difference with team building: More business driven
by links with S/W in work situation and implementation projects
Nieuw! Alleen voor dames …
U vraagt zich af
hoe kan ik als vrouw meer impact maken bij zaken vergaderingen en presentaties
welke kleuren combinaties zijn best geschikt bij mijn type huid
welke kledingsstijl is meest geschikt voor mij?
Onze stijl en kleuren consulente, Kristina helpt U een zicht te krijgen op Uzelf door aangepast advies mbt kleuren en stijlen. via een individuele sessie wordt naar de optimale formuel gezocht voor U
EN UNIEK BIJ HERMES CONSULTING
Onze psycholoog , Bob gaat Uw psychologisch profiel – "temperament"
en Uw stijl combineren – 'matchen'
dit gebeurt via interview en testafname ( ALTI)
Samen met de stijl en kleuren consulente Kristina, wordt er een geoptimaliseerd "imago" uitgewerkt en krijgt U een heel
persoonlijk advies