Diagram

Workshop
+ Vision
+ Mission

Translate
Values in all
HR activities

Understand
YOUR
Business

People
Leaders
Organisations
Measure
+ Talent detection
+ Talent Audit
+ Talent Process
Find and Measure
+ Individual assessment
+ Potential assessment
+ 360° excercises
Measure
+ Organization study
+ Leader's styles
+ SWOT
Develop
+ Talent Process
+ Coaching
+ Training
Develop
+ Coaching: Voice Dialog
+ Coaching for conflict resolution
+ Coaching in small groups =
Development Workshops
Develop
+ Transition
+ Intercultural
+ Team building
Red : see "coaching"
by:
+ relations that build credibility and trust
+ continuous listening
+ getting commitment from the top
+ showing our personal commitment
+ Pushing for coherence
+ Strong collaboration with HR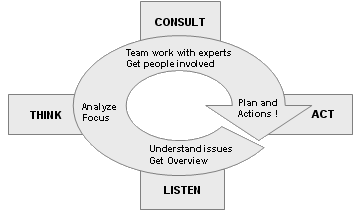 + Organizations are build on opposite elements to be managed
+ These elements are not contradictory but complementary
+ These elements should be in balance – in general
Unbalance is fruitful
if not too long and if well managed, then it provides creative tensions, leading to super- perfomance
The most explicit complementary elements
that are examplatory of this model, are the individual's needs versu s the organization's focus
These both sides – individuals and organization have to be in balance and as elements of the whole system they have to grow simultaneously – in synchronocity – if not unbalance will decrease performance
And conflicts of interest are normal ( jsue tink about "balance professional and family life !) adn do not need to be subject of real conflicts, but can be ares of great creativity—unlike some union people seem to tink
Other examples
– less explicit – are For instance:
+ The power of comittees : a strategic product development Team versus a manufacturing comittee
+ The power of comittees : a strategic product development Team versus a manufacturing comittee
The HR elements we consider are highlighted in the following scheme :
(they are put in a logic flow)
On the people side :
+If you do not know what are your business, values etc any candidate will do the job. Retention is needed and focusing on the Talent Development can.
+ An organization needs to know what "strength " it has in house : a map of the "potential" of the human resources capital seems obvious to do
+ Develop the human capital isnecessary and will be a big support to the need to retain the talent
On the organization side :
+To kwow your SWOT is essential to grow
+Transition is a continuous challenge- A constructive one if the top team has a proactive management style and manages change well
The link between individuals and organizations are the teams : measure their quality and let the team grow -all done via team coaching – included te leaders. A key corner stone !
This is an appreciation of what kind of needs an organization can develop and thus what services are requested from time to time in the HR field: Recruitment;, training, coaching etc
Essential : is there COHERENCE and balance in all these actions?- also a service we can provide you!
As you can read in the diagram, many elements play a profound role in organizations, many services can be offered
We at Hermes Consulting, believe that we have to focus on our strengths and seek for excellent colleagues to provide other services we are not capable to deliver at top level. So we do have a network in headhunting and HR asessment
Our own focus is more on development than measurement, with 2 exceptions:
+One is the organization's study: We combine anthropology and Jung's psychology to a strong mix that results in profound understanding of what is really happening, we project a long term view and add to that a pragmatic advice
+ Another is the assessment of potential : based on 27 years of experience working with top people, having observed their challenges, their way of thinking deciding and acting, having worked close with them in managing complexity and simply have "lived" with them in organizations and appreciated how these top menand women make an organization performant and proactively change processses and structures
Development is our core business.Please discover coaching, Voice Dialog,coaching in conflicts, team Coaching for performance and our unique approach and method : coaching in small groups
Based on experience we offer training services, Auditing HR tools and processes and Intercultural coaching or training
Vision, Mission, Values : study
Our strongest impact is on the analysis of the coherence of application of these 3 elements
+First focus on HR tools; coherence with Vision/ Mission/ Values "audit" HR tools and processes
+Second Focus : are Leaders behaving coherent with Vision, Mission,Values using an anthropological study, qualitative but with high impact, bringing strong discussions what to accept and what, not from leaders as "non-coherence
Organization studies:
+A complete new model to study your performance
+Based on JUNG and Anthropology
+ In depth analysis with a report that goes beyond superficial statements aboyt culture and S/W
+We project an image of your growth potential, strategic levers and unconscious organizational blocking systems – for the next 10 years
NO other consultant has this unique tool in Europe
Leaders Development
Review your organizational potential – the HR side = create a MAP of the leaders and their competences, capabilities, potential to be your driving force for change NOW and in the Future
We can use 2 methods, bot very strong
one to measure from cultural and psychological side the fit individual- organozation/ with focus on competences and attitudes
one oriented towards capacity of the individual to fit with the coplexity of his job
Review your processes how you detect and build talent
People have tensions to "manage"
In themselves
With their teams
Examples :
should my style be harder and more soft at the same moment ?
I'm not delegating enough and work too hard but if i do, I loose quality ?
I need to be a strategic thinker and a pragmatic do-er !
I need helicopter view and need to see the details…all at once
Individual coaching : highly specialized ; 15 y experience
using Voice Dialog technique (see further) if needed
Most of our coachees are VP's an directors
Both, Personal Performance and Development can be focused
We can be your sounding board to discuss Change -Transition, Intercultural Integration and Team Performance
Self Awareness is key in our approach
Remark : Based on in depth training and experience we can trace burn out symptoms and coach for improved "control" and we know when to send te coachee to a psychotherapist- that is part of the training and our integrity
Based on the Jungian framework : tensions are normal, self awareness is key
Using psychological analysis and context profiling
Being prepared to go many extra miles with the people
We drive for a constructive solution
No cure no pay
Coaching with voice dialog
Objective : make people aware of their personal strategies, strenghts and weaknesses – enabling conscious decision making for optimal behavior
Background :
S/W are linked to behavioral patterns that are not always clear or even consciuous
The question is why people choose the situation they are in
Strategies in working life can block or favour adaptation and performance
Beliefs, mental models, psychological preferences : they play their role and influence choices, attitudes an behaviors
People have many elements in their personality, these can be observed in their different styles and approaches
We measure the personality, styles and preferences via tests like ALTI or MBTI or Life Styles or other- and have developed unique combinations like Life Styles with jungian models (Archetypes = patterns of behavior)
The combination of Voice Dialog with MBTI – jungian typology is not unique but a very strong one
Technique :
A kind of role playings with the different styles, strategies, until it is clear to the person what is the "best choice" : Logic behind it : "be aware of what you do and change"
DO You know :
Who are your high potentials? where are the:leaders of today and tomorrow?
There are still competencies and attitudes that are to be learned and are weak all over the organization ?( "weak organizational capabilities")
You want to invest to
Retain the talent
Develop the talent in an accelerated way ?
But for 20 or more people coaching can be a heavy investment
For you, Hermes Consulting has created
Development Workshops :

coaching technique in groups of maximum 6 people

Goal :

accelerated development — and retention of your high potentials
Essentially : workshops – small-interdepartmental groups of high potentials
one day per month
Subject : weak competences-weakest organizational capabilities – No theory !
Preparation is paramount : with top management and HR
The style is challenging – coaching
Key :

commitment

from the

top

who introduces him – herself the workshop the n+1 (if not top mngt) of the participant needs also to be included in this preparation and has to give his clear commitment and the

participant's

commitment
Results
organizational capabilities grow
accelerated developments
participants start coaching each other
> leaders of today and tomorrow develop
> new network between the participants
> they become role model for others
>> These people feel this investment as a real recognition = retention of talent !
Training : "interim" training manager
Based on the analysis of the company culture and values and on the organization needs on long an short term -as discussed with top management and verified by an organization study if needed
Enhance or create a professional analysis of individual and team training needs
Create a coherent training plan for all personnel with a vision for 5 years : a training curriculum people have to follow
Coherent training plan for the high potentials
And for each specific level of employees
Specific training plan for integration of new recruits
Organizational analysis and individual needs analysis are alligned
Deliverable : coherent training programmes -real added value by actions supporting the organisational culture and changes
Training activities we deliver (as sensibilisation)
Group Dynamics
Coach the coach
Self Awareness for more performance
Thinking Styles and Preferences and their impact on collaboration, persuasion and leadership
Conceptual Selling
Intercultural awareness
Deliverable : awareness
Team building
The focus is the OUTPUT – Performance of the team :
incl quality and quantity levels (KPI's to be decided!)
We analyze the " situation" via 6 entree points, including also the perceptions Are considered : elements like decision making processes, leadership, balance of personalities, analysis of counterproductive patterns of behavior

We use a unique mix of elements

(too interesting for competitors to read)
Bringing the team together to construct a dialogue of Transition
Make the team decide Actions with a Plan

Key is commitment from the boss – and supporting the boss
Key is also the preparation that takes more time than the session

The facilitation is done with a challenging style but flexible and empathic
Intercultural
Coaching for integration
Give advice how to integrate in a multicultural team : quick wins
Coaching for understanding intercutural differences and work out action plans
for fast and lasting results
Coaching in group sessions to make tensions open and "discussable"
Training and conferences on intercultural differences : China, Eastern and Western Europe, Central Africa, Madagascar.Other : via network